New Local Numbers Across Canada
Additional local phone numbers are now available in Ontario, Manitoba, Nova Scotia, and Quebec.
WATERLOO, ONTARIO – November 4th, 2022 – Fongo Inc., Canada's Affordable Communications Provider, is pleased to announce the imminent expansion of local phone numbers in more Canadian communities. Having locally based numbers gives Fongo users the opportunity to get a phone number based near their community, which allows their family & friends to contact them without long distance charges.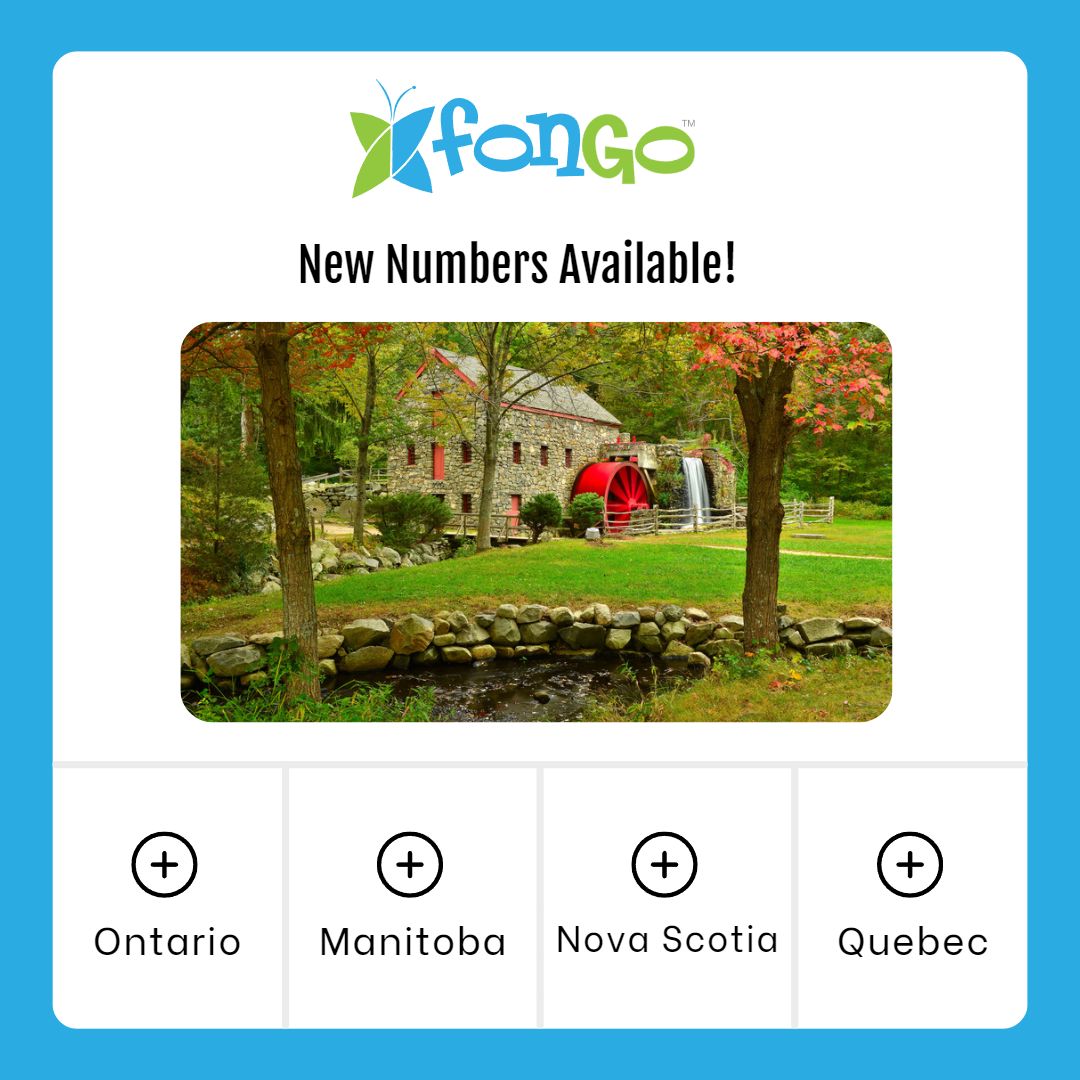 This month, we expanded further across the country and are excited to introduce our services to residents in Ontario, Manitoba, Nova Scotia, and Quebec.
Hundreds of thousands of Fongo users have already chosen local numbers in one of over 617 communities where Fongo numbers are locally available. In addition to the free Canada-wide calling that all Fongo users have enjoyed for years, non-Fongo users can call their friends with a locally based Fongo number without incurring any long-distance fees from their own carrier.
New local numbers are now available in:
Ontario
Algoma District: Missanabie – (249)
Algoma District: Oba – (249)
Drummond/North Elmsley: Perth – (753)
Elizabethtown-Kitley: Toledo – (753)
French River: Noelville – (249)
Lanark Highlands: Lanark – (753)
Lanark Highlands: McDonalds Corners – (753)
Manitoulin District: Silverwater – (249)
Perth – (753)
Rideau Lakes: Elgin – (753)
Rideau Lakes: Portland – (753)
Spanish – (249)
Sudbury District: Ramsay – (249)
Sudbury District: Sultan – (249)
Sudbury District: Westree – (249)
Sudbury District: Whitefish Falls – (249)
Sudbury: Whitefish – (249)
Tay Valley: Maberly – (753)
Wawa – (249)
Manitoba
Louise: Pilot Mound – (431)
Macdonald: Sanford – (431)
Portage La Prairie Rural Municipality: Southport – (431)
Nova Scotia
Queens County: Port Mouton – (782)
Halifax: Prospect Road – (782)
Pugwash – (782)
River Hebert – (782)
Lunenburg District: Riverport – (782)
Halifax: Sheet Harbour – (782)
East Hants: Shubenacadie – (782)
Cumberland County: Southampton – (782)
Cumberland County: Springhill – (782
Halifax: St Margarets – (782)
Stewiacke – (782)
Halifax: Tangier – (782)
Halifax: Upper Musquodoboit – (782)
Colchester County: Upper Stewiacke – (782)
Cumberland County: Wallace – (782)
East Hants: Walton – (782)
Cumberland County: Wentworth – (782)
QUEBEC
Saint-Paul-d'Abbotsford – (579)
Borden – (639)
Bruno – (639)
Dinsmore – (639)
Lanigan – (639)
Lucky Lake – (639)
Wakaw – (639)
Waldheim – (639)