Conference Calling
A Big Conversation Without A Big Bill
There are no fees, no limits on the length of your call, and set-up is incredibly simple. Anyone can join a free Fongo conference call from any phone (a Rogers customer can dial in from their Rogers phone). There is a limit of 10 callers per session to ensure a stable call.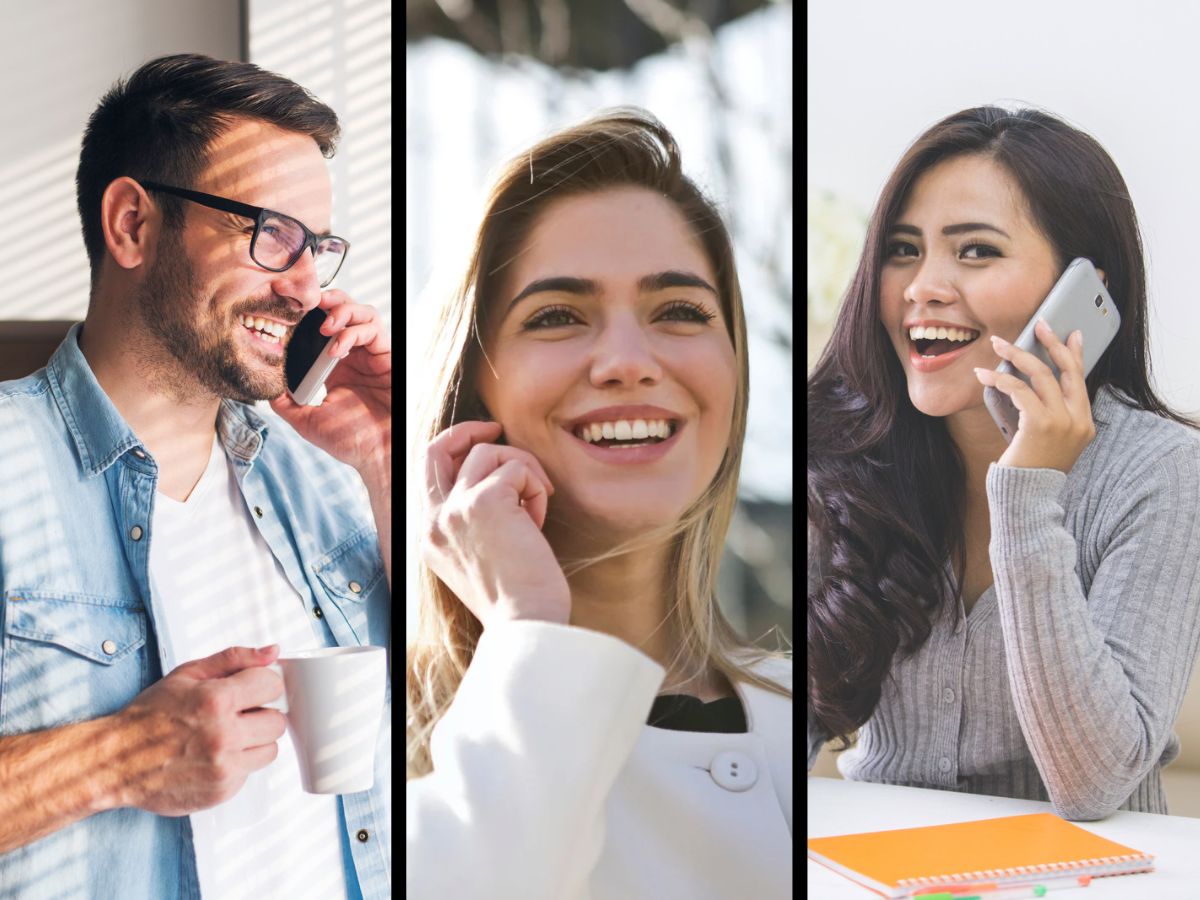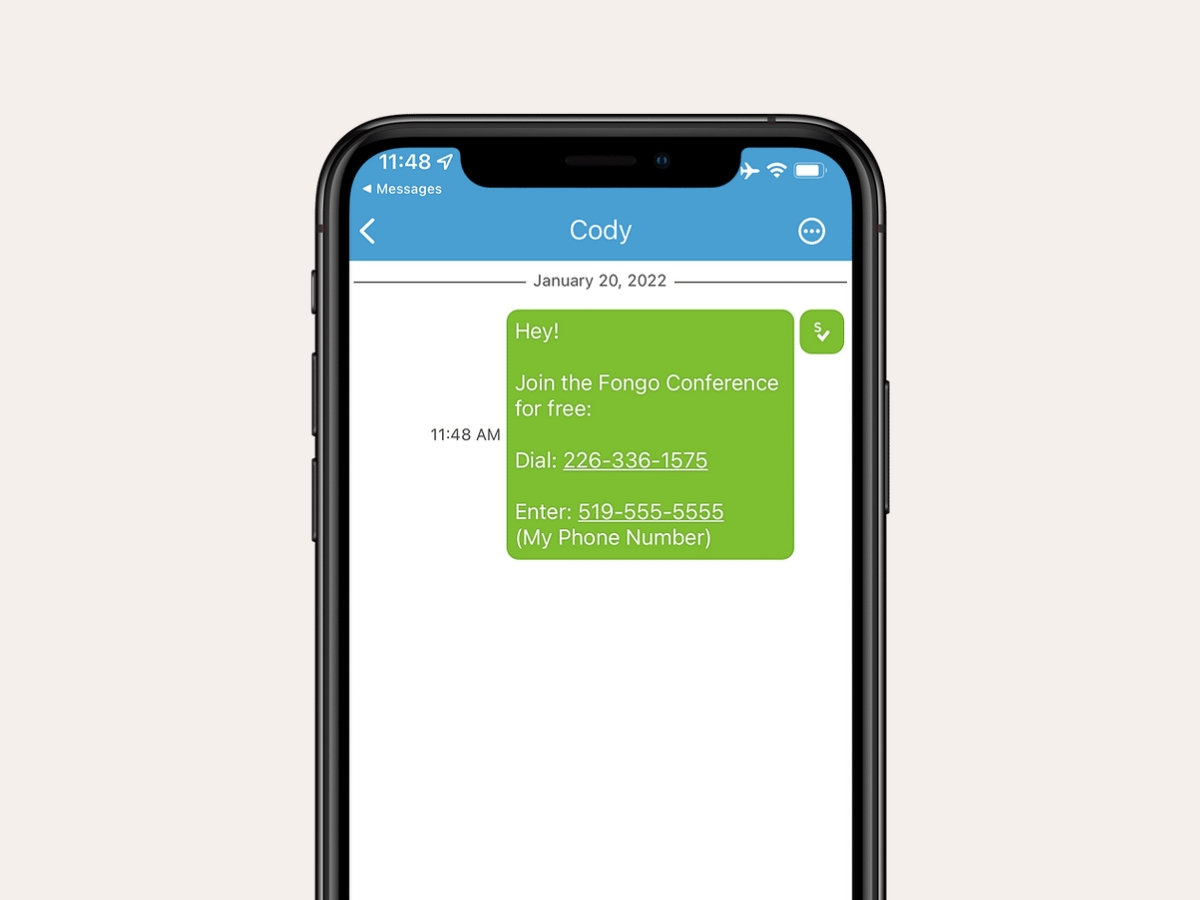 Getting Started Is Easy
If you have a Fongo account, you already have a Conference pin code – it's your 10-digit Fongo phone number (eg. 519-555-5555).
You don't need to set up a conference call ahead of time. Simply tell your participants to dial in to any of the Fongo conference dial-in numbers below and enter your 10-digit Fongo number as the pin code. That's it! The call will start as soon as two people enter your pin code.
Fongo Conference Dial-in Numbers
Ajax/Pickering, ON 289-624-6312
Banff, AB 587-883-0799
Barrie, ON 705-881-4054
Belleville, ON 613-689-9713
Brampton, ON 289-505-1784
Brantford, ON 226-227-9435
Calgary, AB 587-287-2255
Chatham, ON 226-996-9955
Drummondville, QC 873-886-9549
Edmonton, AB 587-487-1290
Fergus, ON 226-449-9804
Gatineau, QC 819-282-0199
Granby, QC 579-380-9999
Gravenhurst, ON 705-703-9473
Guelph, ON 226-706-8520
Halifax, NS 902-932-1200
Hamilton, ON 289-639-8499
Huntsville, ON 705-704-9395
Kingston, ON 613-817-4054
Kitchener/Waterloo, ON 226-336-1575
Laval, QC 579-979-0997
Lindsay, ON 705-701-9695
London, ON 226-289-3357
Markham, ON 289-818-2413
Midland, ON 705-540-9610
Milton, ON 289-409-9965
Mississauga, ON 289-643-1790
Montreal, QC 438-338-0358
Newmarket, ON 289-579-9999
North Bay, ON 705-707-9717
Orangeville, ON 226-259-9564
Oshawa, ON 289-634-3484
Ottawa, ON 343-882-1920
Peterborough, 705-400-7247
Quebec City, QC 418-478-3067
Regina, SK, 306-910-1500
Saguenay, QC 581-683-1350
Sarnia, ON 226-776-9741
Saskatoon, SK 306-912-1500
Sault Ste. Marie, ON 249-889-9929
Sherbrooke, QC 873-888-9040
Simcoe, ON 226-534-9830
St. Catharines, ON 289-438-8385
St-Jean, QC 579-381-9649
St-Jerome, QC 579-887-9889
St. Thomas, ON 548-538-9999
Sudbury, ON 705-885-3010
Toronto, ON 647-848-3378
Trois-Rivieres, QC 873-887-9776
Vancouver, BC 778-775-3470
Vaughan, ON 289-963-9812
Victoria, BC 778-557-9423
Winnipeg, MB 204-202-9419
Windsor, ON 226-946-3015
Woodstock, ON 226-557-9998
Ajax/Pickering, ON 289-624-6312
Banff, AB 587-883-0799
Barrie, ON 705-881-4054
Belleville, ON 613-689-9713
Brampton, ON 289-505-1784
Brantford, ON 226-227-9435
Calgary, AB 587-287-2255
Chatham, ON 226-996-9955
Drummondville, QC 873-886-9549
Edmonton, AB 587-487-1290
Fergus, ON 226-449-9804
Gatineau, QC 819-282-0199
Granby, QC 579-380-9999
Gravenhurst, ON 705-703-9473
Guelph, ON 226-706-8520
Halifax, NS 902-932-1200
Hamilton, ON 289-639-8499
Huntsville, ON 705-704-9395
Kingston, ON 613-817-4054
Kitchener/Waterloo, ON 226-336-1575
Laval, QC 579-979-0997
Lindsay, ON 705-701-9695
London, ON 226-289-3357
Markham, ON 289-818-2413
Midland, ON 705-540-9610
Milton, ON 289-409-9965
Mississauga, ON 289-643-1790
Montreal, QC 438-338-0358
Newmarket, ON 289-579-9999
North Bay, ON 705-707-9717
Orangeville, ON 226-259-9564
Oshawa, ON 289-634-3484
Ottawa, ON 343-882-1920
Peterborough, 705-400-7247
Quebec City, QC 418-478-3067
Regina, SK, 306-910-1500
Saguenay, QC 581-683-1350
Sarnia, ON 226-776-9741
Saskatoon, SK 306-912-1500
Sault Ste. Marie, ON 249-889-9929
Sherbrooke, QC 873-888-9040
Simcoe, ON 226-534-9830
St. Catharines, ON 289-438-8385
St-Jean, QC 579-381-9649
St-Jerome, QC 579-887-9889
St. Thomas, ON 548-538-9999
Sudbury, ON 705-885-3010
Toronto, ON 647-848-3378
Trois-Rivieres, QC 873-887-9776
Vancouver, BC 778-775-3470
Vaughan, ON 289-963-9812
Victoria, BC 778-557-9423
Winnipeg, MB 204-202-9419
Windsor, ON 226-946-3015
Woodstock, ON 226-557-9998
Ajax/Pickering, ON 289-624-6312
Banff, AB 587-883-0799
Barrie, ON 705-881-4054
Belleville, ON 613-689-9713
Brampton, ON 289-505-1784
Brantford, ON 226-227-9435
Calgary, AB 587-287-2255
Chatham, ON 226-996-9955
Drummondville, QC 873-886-9549
Edmonton, AB 587-487-1290
Fergus, ON 226-449-9804
Gatineau, QC 819-282-0199
Granby, QC 579-380-9999
Gravenhurst, ON 705-703-9473
Guelph, ON 226-706-8520
Halifax, NS 902-932-1200
Hamilton, ON 289-639-8499
Huntsville, ON 705-704-9395
Kingston, ON 613-817-4054
Kitchener/Waterloo, ON 226-336-1575
Laval, QC 579-979-0997
Lindsay, ON 705-701-9695
London, ON 226-289-3357
Markham, ON 289-818-2413
Midland, ON 705-540-9610
Milton, ON 289-409-9965
Mississauga, ON 289-643-1790
Montreal, QC 438-338-0358
Newmarket, ON 289-579-9999
North Bay, ON 705-707-9717
Orangeville, ON 226-259-9564
Oshawa, ON 289-634-3484
Ottawa, ON 343-882-1920
Peterborough, 705-400-7247
Quebec City, QC 418-478-3067
Regina, SK, 306-910-1500
Saguenay, QC 581-683-1350
Sarnia, ON 226-776-9741
Saskatoon, SK 306-912-1500
Sault Ste. Marie, ON 249-889-9929
Sherbrooke, QC 873-888-9040
Simcoe, ON 226-534-9830
St. Catharines, ON 289-438-8385
St-Jean, QC 579-381-9649
St-Jerome, QC 579-887-9889
St. Thomas, ON 548-538-9999
Sudbury, ON 705-885-3010
Toronto, ON 647-848-3378
Trois-Rivieres, QC 873-887-9776
Vancouver, BC 778-775-3470
Vaughan, ON 289-963-9812
Victoria, BC 778-557-9423
Winnipeg, MB 204-202-9419
Windsor, ON 226-946-3015
Woodstock, ON 226-557-9998