Your Business's Phone Number
New Local Phone Number
FREE
Learn More
We will give you a new phone number free of charge. During sign up you will get to choose which city (area code) your number is local to. You can cycle through several numbers until you find one you like.
Transfer Your Existing Number
Add-on
Learn More
You can transfer your existing local or toll-free number into Fongo Works after sign up is complete. (enter the Fongo Works shop from your dashboard)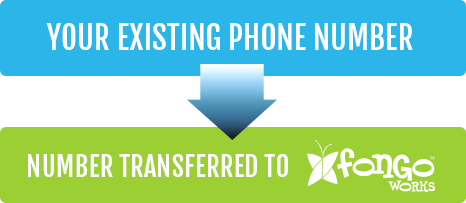 New Toll-Free or Vanity Number
Add-on
Learn More
You can order a toll-free number and/or a custom vanity phone number after your sign up is complete. (enter the Fongo Works shop from your dashboard)
Your Fongo Works account can have as many phone numbers as you want. Each phone number, when called, will all route to the same receptionist greeting, then the caller will choose which extension to be routed to. (The receptionist cannot be bypassed)
Extensions
Learn More
You will input a name, forwarding phone number and email address for each member (extension) in your system. Each member you add will get a 3 digit extension number assigned to them.
Learn More
Upgrade to Fongo Works Pro Features for up to 15 member extensions and the ability to customize the 3-digit extension number for each member. (Available Upon Request (No Additional Fee)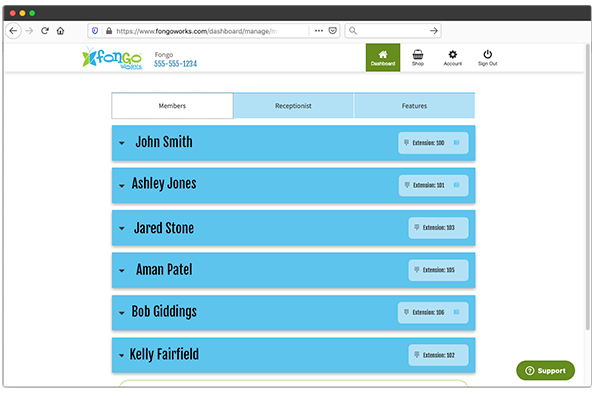 How to Configure Member Settings and Call Handling
Caller Options
Standard Call Routing
FREE
Learn More
You will set caller options 0-9
Example: You set "Jim Smith" as caller option 1, when a caller calls your business number then presses 1, the call will go to Jim's extension.
Your automated receptionist greeting should reflect your caller options Example: "press 1 to speak with Jim".
Learn More
Hunt groups are when you have multiple extensions ring at the same time or one after another for a single caller option
Example: Caller presses 3 for the sales department and ext 100, ext 102 and ext 105 all start ringing
Receptionist
Learn More
When someone calls ANY of your business' phone numbers the call will be answered by your Fongo Works automated receptionist greeting.
Computer Generated Voice
FREE
Learn More
With the Free version of Fongo Works and with Fongo Works Pro, you can create your receptionist greeting by using one of our automated voices. We give you a default script that you can edit so your automated voice will say whatever you type.
How to Setup Your Caller Options and Receptionist
Learn More
You can alter the call handling settings to be unique for each member, meaning when a caller chooses or dials a member's extension, you can set how that member receives the call.

Example: Call rings on the member's mobile app, then forwards to cell phone number if not picked up on the mobile app.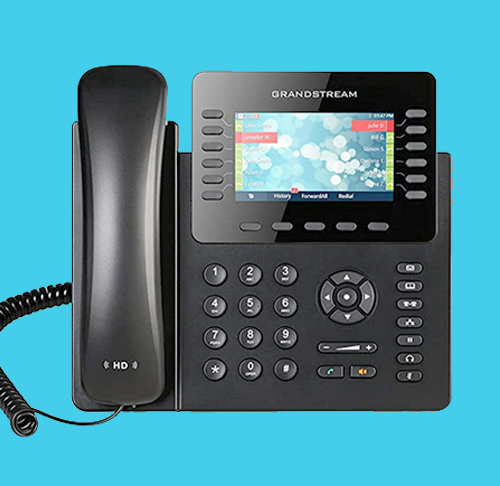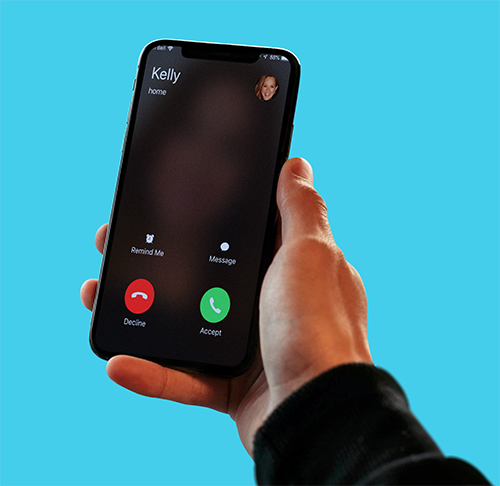 To your cell phone number
A call can go to all of these options or just one of these options.
Voicemail
Receiving Voicemails
FREE
Learn More
Each member will have their own personal voicemail inbox. If you are signed into the mobile app, your voicemails can be checked there. If you are not signed into the mobile app, your voicemails will be emailed to your email inbox as audio files.

IP devices can dial *98 to check voicemail inbox.
Learn More
You can use our default, automated voicemail greeting or you can record your greeting yourself by dialing *98 on your Fongo Works mobile app, your IP desk phone, or your desktop app.
Conference Calls
Learn More
Callers call your Fongo Works number and enter the Conference Pin (provided in your Fongo Works Dashboard). Entering the pin will allow callers to join a conference call. Click here to learn more, or watch the video below.